High Temperature Resistant Barbecue Bag
High Temperature Resistant Barbecue Bag
Regular price
$26.65
Sale price
$25.99
Get it between
Dec 11
-
Dec 18
Guaranteed safe & secure checkout
Tired of standing by the grill or letting food fall into cracks and having to spend hours cleaning the grill? These mesh bags prevent food from falling between the cracks and sticking to the grill! Enjoy barbecue with bags now, no worries!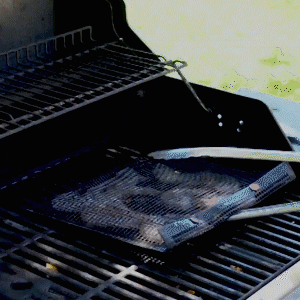 Main Features
Grill Properly, Clean And Neatly
This mesh pouch is designed with advanced non-stick material and is the ultimate solution to

 

prevent food from sticking to the grill. The grill design keeps all the food on top, so it can be evenly heated and grilled.
Easy To Clean And Easy To Reuse


A small smart bag

 

keeps your food away from all the black charcoal on the pesky grate! Stickers are explosion-proof, reusable food safety bags and dishwasher safe! Barbecue is delicious and environmentally friendly!
Multi-function
Use this mesh to grill at your backyard barbecue party or use it for smoked or steamed food!

 

This non-toxic, food-safe sachet has high heat resistance. Easy cooking in any situation, your ideal companion! Technical index.
Specifications
Size:
S 14 * 22.5cm
L 22 * 27cm
Materials: 
Glass Fiber
Teflon coating
Package Includes

 1 x High-Temperature Resistant Barbecue Bag 
Similar products
Customers who viewed this item also viewed
Free Shipping And Refunds Walk Wear™ - Breathable Canvas Shoes Sizing Chart  Exceptional Comfort And Fit: Walk Wear™  walking shoes are designed...
Full details
Walk Wear™ - Breathable Canvas Shoes
Regular price $159.95 Sale price $69.95
  Sizing and Description: Please allow 0-1cm errors due to manual measurement. Please choose size according to foot length. Due to different...
Full details
British Lightweight Knitted Dress Shoes
Regular price $89.99 Sale price $49.95
Price and comfort-conscious? These  Genuine Leather Jacked Shoes are a fusion of quality and style, not to mention our unbeatable price! These...
Full details
Genuine Leather Jacked Shoes
Regular price $129.95 Sale price $49.95
"Awesome product with Cheap Price. "REALDEALBUDDY" ROCKS Thankyou "

Tobias Rohr (US)
Shopping with "REALDEALBUDDY" is Easy & Reliable Highly Recommended 

Laura birmingham (UK)
"REALDEALBUDDY" has trending collections with very cheap price . AWESOME! 

Beatrice Stephanie (US)